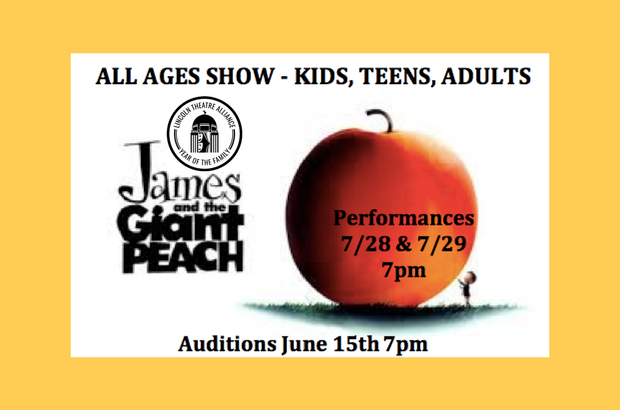 What is the KIDS OF ALL AGES SHOW? 
Each year, Theatre Arts For Kids does one show that is audition only and tuition free.  This show is more like a typical community theatre production.  Kids, teens, and adults are all encouraged to audition.  There are no age restrictions.  This is a great opportunity for parents of children in our program to be in a show with their kids.  Parents gain an even greater understanding of what goes into a production and many end the experience saying that they have immense respect for the work their kids do.  This year's KIDS OF ALL AGES SHOW is James & The Giant Peach.  From the writers of the music for La La Land, Dear Evan Hansen, and A Christmas Story, this charming musical is full of incredible music helping to tell Roald Dahl's famous story.  This is the perfect show for families to do together.  There are lots of great roles for those that are looking to dig their heels into a larger role.  There is also a great ensemble of characters, which is perfect for parents and kids, siblings, or other family combos to do together.  Every show we do is different.  In this particular show, the ensemble is involved in a few numbers in the show.  This means that rehearsal time for the ensemble will be limited as compared to other shows.  The ensemble will rehearse twice per week beginning the week of June 15th.  The days for these rehearsals will be decided after auditions so that we can take all performer's conflicts into consideration.  If you are interested in auditioning, be sure to check out the particulars below. 
WAIT!  I have to AUDITION? 
The auditions for James & The Giant Peach are June 15th 7pm-9pm.  This will be a high energy, low stress experience.  You do not need to prepare anything!  We will teach you a short portion of one of the songs in the show.  You will have the option to sing it for us individually if you are interested in a larger singing role, but it is NOT required if you are interested in the ensemble only.  We will learn a short and EASY dance to a song from the show. 
You are convinced?  You want to audition?  What's next?
There is a simple online registration to let us know that you want to audition.  That's all you have to do!  Following the auditions on June 15th, there will be call backs for those we are considering for the larger roles on Friday, June 16th 7pm-9pm.  The cast list will be sent out Friday night and our first full cast rehearsal is on Saturday, June 17th Noon-4pm.  Be sure to read through the commitment information below. 
Commitment
The rehearsal schedule will be set following auditions. 
Participants will submit all conflicts from June 15th-July 29th. 
The rehearsal schedule is designed around conflicts. 
Rehearsals are weeknights and Saturdays (not all). 
The time commitment is dependent on the size of the role. 
Required rehearsals
Saturdays, July 15th & 22nd
Mondays – Friday Evenings July 17th-July 27th
Exceptions can be made depending on casting. 
Please email info@tafk.org if you have a conflict during the required rehearsals prior to auditions to see if it is something that can be worked around. 
Cost
There are no costs or fees associated with this production.  Participants are encouraged to sell program advertising and tickets to the show as ways to help defray costs of the production.  
Not a performer, but you would like to be involved? 
We need lots of backstage help including lights and sound etc.  If you are interested in being part of the show backstage, please register for an audition and attend auditions.  We will discuss all opportunities at that time. 
Want to know more about the show? 
Email us at info@tafk.org and request to be added to the James & The Giant Peach soundtrack.  A list of the characters is below.
JAMES & THE GIANT PEACH - ROLES
Ladahlord
A strange, magical storyteller. Often inserts himself into the story, in disguise, to help push the action forward.  Gender: Male or Female
James
A lonely young boy who lacks confidence. Having lost both his parents in a freak accident, he feels he belongs nowhere in the world. However, when given the right encouragement he becomes resourceful and innovative.  Gender: Male or Female
Spiker
James' mean aunt. A thief and a scoundrel. Shrewd and opportunistic. Very tall and thin.  Gender: Female (could be male in drag)
Sponge
James' other mean aunt. Also a thief and a scoundrel, but not nearly as bright as her sister. Very corpulent, she often has her mind on food.  Gender: Female (could be male in drag)
Spider
A normal spider who has become human-sized after eating a crocodile tongue. Her husband was killed and eaten by Spiker and Sponge. She is warm and friendly to James.  Gender: Female
Green Grasshopper
A wizened grasshopper who has become human-sized after eating a crocodile tongue. An excellent musician. Has his eye on Ladybug. This actor also plays Man with Wallet and Garden Guild.  Gender: Male
Centipede
An ornery centipede who becomes human-sized after eating a crocodile tongue. Hates humans, in part because Spiker and Sponge fumigated his family. Prickly and rude, everyone thinks he is a pest. Gender: Male or Female
Ladybug
A motherly ladybug who has become human-sized after eating a crocodile tongue. Respectable and classy, she has a warm, caring heart. Has her eye on Grasshopper. This actor also plays Matron Nurse and Reporter.  Gender: Female
Earthworm
An earthworm who has become human-sized after eating a crocodile tongue. A bit of a scaredy-cat. He is neurotic and worried about everything, but is very friendly and brave when called upon. This actor also plays Bobby Cop and Bitzi Botana.  Gender: Male or Female
Ensemble
Crowd, Karl Kreatour, Reporters, Vagrants, Garden Guild, Bobby-Cops, Willy Wonka, Oompa Loompas, Hollywood Agents, Seaugulls, New Yorkers.  Gender: Both