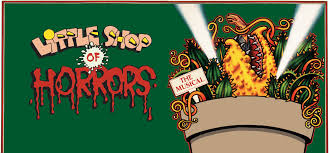 What is the KIDS OF ALL AGES SHOW? 
Each year, Theatre Arts For Kids does one show that is audition only and tuition free.  This show is more like a typical community theatre production.  Kids, teens, and adults are all encouraged to audition.  There are no age restrictions, though we do recommend that kids be at least 8 years of age.  This is a great opportunity for parents of children in our program to be in a show with their kids.  Parents gain an even greater understanding of what goes into a production and many end the experience saying that they have immense respect for the work their kids do.  This year's KIDS OF ALL AGES SHOW is Little Shop of Horrors.  Every show we do is different.  In this particular show, the ensemble is involved in two numbers in the show.  This means that rehearsal time for the ensemble will be limited as compared to other shows.   If you are interested in auditioning, be sure to check out the particulars below.  We have a new rehearsal schedule for our Kids of All Ages Show.  We will be rehearsing on Monday and Thursday nights only from 6pm-9pm.  The ensemble will not be called to all of these. All performers must be available for all tech/performance week dates.  
What you need to know...
Artistic Director, Leah Kolar
Stage Director, Blake Tobey
Music Director, Lauren Cook
Choreographers, Leah Kolar & Becca Stouder
Auditions:  May 12th, 2pm
Performances: July 27th & 28th
Rehearsals: Mondays & Thursdays 6pm-9pm May 31st – July 12th
Additional rehearsals: May 29th/30th 6pm-9pm
Required Tech Weeks: July 16-28th - Every night 6pm-9pm; Saturdays 10am-4pm (no Sundays)
Location: Christ Lutheran Church (4325 Sumner St)
WAIT!  I have to AUDITION? 
The auditions for Little Shop of Horrors will be Saturday, May 12th at 2pm.  If you are unable to make this audition date, please email info@tafk.org to arrange an alternate time.   This will be a high energy, low stress experience.  Please prepare a 16-32 bar audition song.  We recommend that your selection be either specific to the role you are auditioning for or a selection from 1950's/60's rock songs.   If you are interested in being in the ensemble and prefer to not prepare a solo for auditions, we will teach you a short portion of one of the songs in the show.  You will have the option to sing it for us individually if you are interested in a larger singing role, but it is NOT required if you are interested in the ensemble only.  We will learn a short and EASY dance to a song from the show. 
You are convinced?  You want to audition?  What's next?
There is a simple online registration to let us know that you want to audition.  That's all you have to do!  
Commitment
The rehearsal schedule will be set following auditions.  Not everyone will be called to all rehearsals.  
Participants will submit all conflicts during the rehearsal period.   
The rehearsal schedule is designed around conflicts. 
Rehearsals are Mondays & Thursdays 6pm-9pm.
The time commitment is dependent on the size of the role. 
Required dates
Performances: July 27th & 28th
Rehearsals: Mondays & Thursdays 6pm-9pm May 31st – July 12th
Additional rehearsals: May 29th/30th 6pm-9pm
Required Tech Weeks: July 16-28th - Every night 6pm-9pm; Saturdays 10am-4pm (no Sundays) Exceptions can be made depending on casting.  Please email info@tafk.org if you have a conflict during the required rehearsals prior to auditions to see if it is something that can be worked around. 
Cost
There are no costs or fees associated with this production.  Participants are encouraged to sell program advertising and tickets to the show as ways to help defray costs of the production.  Each performer will pay a $50 deposit at the beginning of the process when they receive their script.  This deposit will be returned on the final day of the production to performers who have fulfilled their commitment to the production and returned their script fully erased and in good condition.  If a performer is unable to fulfill their commitment, this deposit will be put towards the costs of their costumes etc.  
Not a performer, but you would like to be involved? 
We need lots of backstage help including lights and sound etc.  If you are interested in being part of the show backstage, please register for an audition and attend auditions.  We will discuss all opportunities at that time. 
Want to know more about the show or the process? 
Email us at info@tafk.org.  A list of the characters is below.
Show Synopsis
Little Shop of Horrors is a delectable sci-fi horror musical with an electrifying 1960s pop/rock score by Alan Menken and Howard Ashman.  Seymour Krelborn is a meek and dejected assistant at a floral shop who happens upon a strange plant, which he affectionately names "Audrey II" after his crush at the shop. Little does he know that this strange and unusual plant will develop a soulful R&B voice, a potty mouth, and an unquenchable thirst for HUMAN BLOOD.  As Audrey II grows bigger and meaner, the carnivorous plant promises limitless fame and fortune to Seymour, as long as he continues providing a fresh supply of blood. Just when it's too late, Seymour discovers Audrey II's extra-terrestrial origins and his true drive for world-domination.  This musical is not for the faint of heart if taken at face value, but an upbeat TON OF FUN for those that see it for what it is... a charming love story with a bizarre ending.  
Character Breakdown
Seymour Krelborn

An insecure, put-upon florist's clerk and eventual hero. He is a genuine, well-meaning man who is taken for granted because of his clumsy ways and poor social skills.

Audrey

Bleached-blond, Billie-Dawn-like, secret love of Seymour's life. She has poor self-worth and education, but incredible good looks and a sweet and vulnerable demeanor.

Mr. Mushnik

The seasoned owner of the failing East Side flower shop and Seymour's nosy boss. He is profit-driven, greedy, and manipulative.

Orin Scrivello

An egotistical dentist with a passion for leather and sadistic tendencies. Audrey's abusive boyfriend, who is targeted by Seymour.

Voice Of The Plant

An actor/vocalist located offstage. The voice is that of a conniving, street-smart 'villain.

Crystal, Ronnette and Chiffon

Street urchins, acting as the occasional Greek Chorus. Young, hip, and smart, these girls are the only ones who have a grip on reality. Must be great dancers and able to strongly hold harmony.  

Ensemble

A medium sized ensemble of street urchins, business people, agents, housewives and children.